Zervice
Agency:
Push
Developer:
Eric Van Holtz
The Zervice Group runs a variety of different franchises that provide services for a happier and healthier life.
Back in 2013, we delivered this award winning website with a unique navigation and design. Instead of scrolling through the page, you get to experience and learn about Zervice by driving around the town.
The website was developed using a series of photos, an SVG path that the vehicle drives along, interactive elements like the clouds, quizzes, and overlays.
One of the coolest features was that image assets could be layered, which allowed for the vehicle to then drive under or over, providing a real sense of depth and emersion to the environment.
Start
You begin the journey with a van that drives into view, a welcome message, and a thought bubble with a button to go.
Homebase
One of the more complex scenes includes a marquee text scroller, and a building that the vehicle drives through.
Quiz
With a couple stops throughout the trip you're prompted with a quiz to learn more about Zervice's offerings.
Neighborhood
As you make your way along the winding roads you visit these homes and can learn all about one of the many Zervices like MaidPro.
All aboard!
At the final stop you drive into the city and under a bridge, just as a train speeds by from above.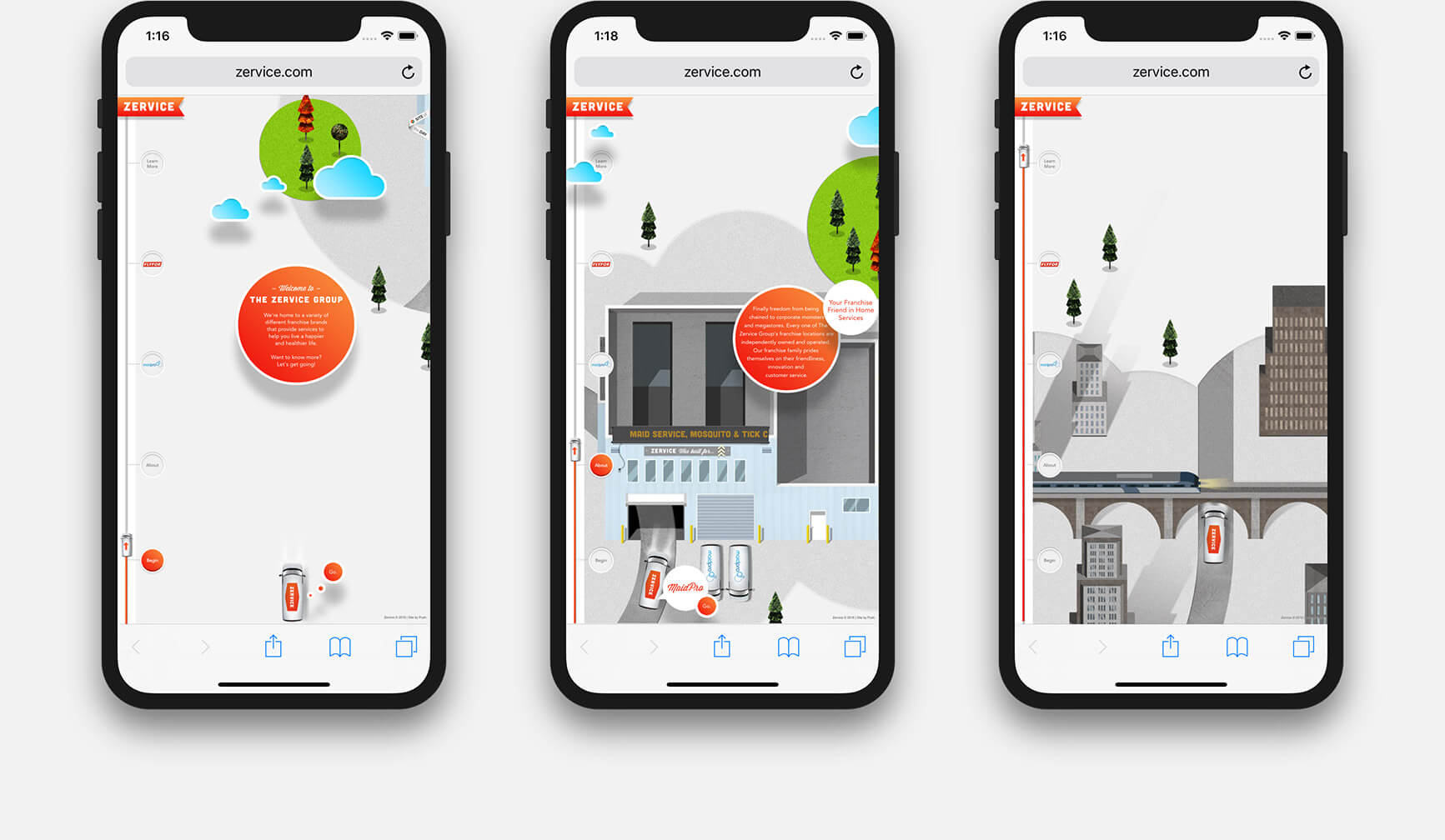 On the go.
In the early responsive web days this site actually worked from a mobile device. Don't let the iPhone X here fool you–when this site came out everyone had the iPhone 5.
Zervice is a progressive group with multiple franchise brands all leading the way.
They wanted a unique website and gave us free reign over the creative direction and execution of the project. They were ecstatic with what we delivered.
This is the oldest website we are showcasing, but one that we are so grateful having been part of. It was also one of the most awarded websites we've launched.
Like this project and want to chat about what we could do for you? Hit us up!